Oct 14, 2022 22:15:00 PM
Our range of road handling upgrade kits for Rolls-Royce & Bentley models from 1946 through to 2003 are the most comprehensive available!
If you're used to modern cars and the way they handle, this will transform the ride of your car and make you feel a lot more comfortable in your classic motorcar.
Adding a Handling Package has long been one of the most-loved upgrades that can be performed on a classic Rolls-Royce or Bentley. One of the down sides of a comfortable ride is the distinctive but unnerving roll when the vehicle corners. Fitting uprated or additional roll bars equalises weight distribution, and uprated springs (where necessary) further improves the stability of the car.
When we designed the Prestige Parts® Handling Packages we realised that many of the ancillary components on existing kits in the marketplace are not included. We are in the fortunate position to carry all these parts in stock so building a kit that is comprehensive was an obvious decision.
Furthermore we resolved that the Prestige Parts® Handling Packages should be no more expensive than any other on the market despite including many more components.
Standard Handling Packages will typically include four uprated Road Springs, an uprated front anti-roll bar, uprated rear anti-roll bar, and D-bushes. The Prestige Parts® Handling Package includes all those items, but also features Spring Seats, Anti-Roll Bar Links & all the fixing bolts - at no extra cost.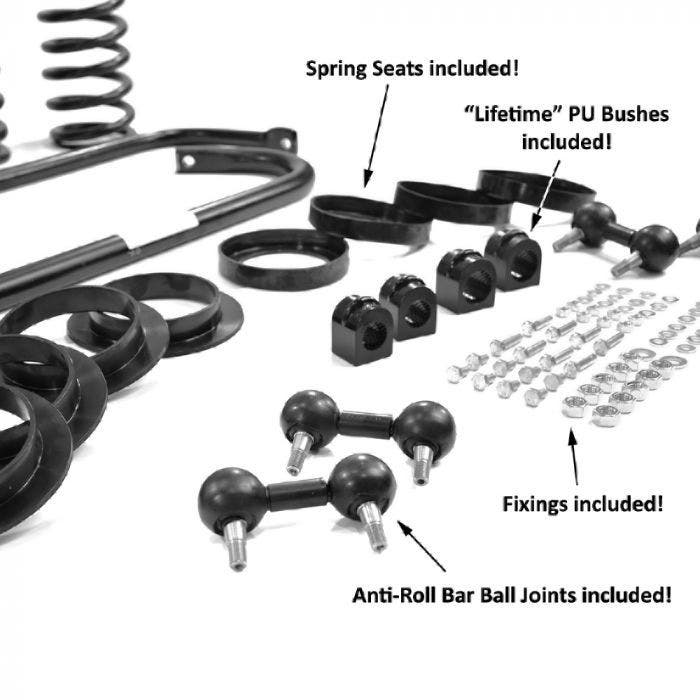 M6ARBKIT-X
1946-1955
Rolls-Royce Silver Wraith & Silver Dawn
Bentley Mk VI & R-Type
SCARBKIT-X
1956-1965
Rolls-Royce Silver Cloud I, II & III
Bentley S1, S2 & S3
DHARBKIT-X
1965-1979
Rolls-Royce Silver Shadow 2-door Convertible & Rolls-Royce Corniche
Bentley Corniche
SSARBKIT-X
1965-1980
Rolls-Royce Silver Shadow series & Corniche (Fixed Head/Coupe)
Bentley T series
SPARBKIT1-X
1979-1982
Rolls-Royce Silver Spirit & Silver Spur (to chassis 02965)
Corniche (chassis 50001-50757 & 01557-05036)
Bentley Mulsanne (to chassis 02965)
SPARBKIT2-X
1981-1989
Rolls-Royce Silver Spirit, Silver Spur (chassis 02966-27798) & Corniche (chassis 05037-29290)
Bentley Mulsanne, Mulsanne S, Mulsanne SL, Mulsanne Turbo, Eight, Turbo R (chassis 02966-27799), Corniche (chassis 05037-08901) & Continental (chassis 09030-29289)
Will this improve your Bentley or Rolls-Royce Ride?
Classic Obsession's Gary Mavers test drives our Road Handling upgrade kit with a before and after test on his Rolls-Royce Corniche!
See the full scope of the tranformation as he removes and replaces all original equipment parts with the replacement Prestige Parts® new components, and the subsequent result and the drive of the car.

If you have any other questions about these handling kits - please let us know!